2 days ago.
DH : So, what do you want for Christmas this year Honey??
Me : Oh, nothing that I could think of.
DH : You sure about that??
Me : Nah, really nothing Darling, I've got almost everything,  I don't want any more watches for Christmas. *lol*
DH : I thought you always love to collect watches?? *grinning*
ME : Well, since you ask, remember I told you I would LOVE to own a DSLR? (I was grinning from ear to ear!!) But you told me I have to wait til next year, so it's ok, I'll wait a little bit longer. (pretending to be not interested!! lol)
DH : Well, ok, you can go get it!!
Me : (I turned to stare at him in disbelief!!)………. But you told me I have to wait til next year??
DH : You want to get it or not before my offer is closed?!!
Me : (I jumped on top of him & gave him a BIG hug & kiss) Thank you Darlingggggggg!!!! Yipeeee…………………..
DH : Hahahahahahahaha……………….. Just promise me you wouldn't neglect Ethan & me when you get to play with your new toy!!
Me : I promise I won't!!! (still grinning & laughing like an idiot!!!)
Remember I mentioned that I would LOVE a DSLR for Christmas & I said it's hard luck?!? Well, never mind because I just became a proud owner of a CANON 400D!!!! YAAAAAY!!!!
Look at my new Baby!!! Isn't she BEAUTIFUL!!!!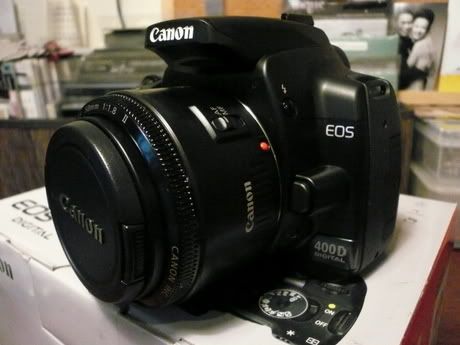 Thank you thank you thank you Darling!!! This is the best Christmas gift I've ever received from anyone!!! Not that I have ever expected anyone else besides you to get me this!!!
When we were out to get this, I was like a little girl, all excited, to get my new toy!! Hell, I actually owned a SLR (film) which I bought for myself about 10 years ago but I still feel all excited about this!! This is different because it's digital. Hahahahahahahaha!!
I opted out the standard lense and chose a Canon EF 50mm f/1.8 lense. It's a perfect lense for shooting portraits!! I tested it & it's PUUURRFECT!!! lol……
And when I came home I took out my 10 years old Tamron 28-200mm zoom lense to mount it onto my new toy, it just fits perfectly!!! YAY!!!
So, I'm going to hug my new "baby" to sleep tonight!! Just kidding!! 😉
Well, here I am, wishing all of you A Very Merry Christmas & hope you will have a great time with your loved ones!!