Nothing much.
Overloaded with work.
Hangover from late nights.
Baking cakes.
Making tags.
Attended crop party.
Nothing much, eh? LOL……….
Well, I've been looking around for some inspiration and here's what I found at Decor8.
I found this here. Cool isn't it?
And just look at this!!! I'm so in LOVE with this table!! And the inspiration board!! I found these from here and here.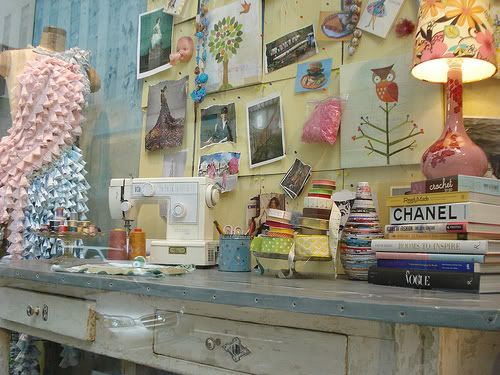 I LOVE that letters on this wall!! Found it here. I think I'm going to find an empty wall in my place to put up stuff like this!! I can just look at them everyday, to be inspired!! LOL…….
This is such a great idea!! You can see this from here. These hoops are used to hold cross fabrics for embroidery. Hhhmmm…………… this gives me an idea of something I'd like to alter. ;D
And just look at this closet I found here!! I WANT IT BADLY!!! But why do I need another of this??!! Crazy me!! lol……………………….
Don't you love the colours of this??!! You can find it here. I don't think so I have enough wall in my place to put up with all the stuff I've found today!! Hahahahahaha………………….
And these are sooooooooooo CUTE!!! Looking at these owls just makes me happy! You can find these here.
Alright, that's enough for a night and it has been truly inspirational and I hope I can find my lost mojo soon!
I had a sudden urge to scrap. Maybe I'll do something real simple, no cutting of flowers for me this time! I think I've been choked with so much cutting I've got to take a break!! 😀
Have a great evening!!