I made another card together, a Thank You card for a friend. It's just a little token of appreciation of her generosity. Hope she'll like it.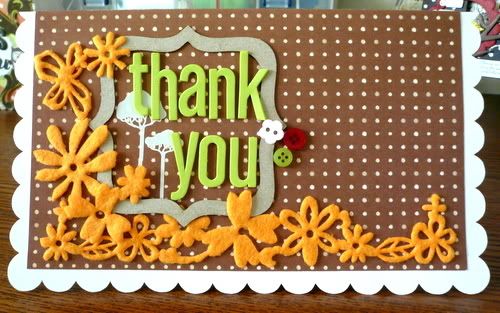 Lately, I've been loving green, brown, orange & white. I don't know why I have a knack for these colours but I just love them & find them very pleasing to my eyes.
Probably I've been seeing too much RED this couple of days, everyone has been wearing red because of the Chinese New Year celebration. Red brings "luck", as the Chinese believed. I hope this is true because I need a lot of luck this year!! lol!
Anyway, the products I used in making this card are the Magistical Memories chipboard Fancy Frame, Scenic Route PP, Bazzill cardstock, Queen & Co felt border, Hambly rub-on, AC Thickers foam letters & Autumn Leaves buttons.
Thank you so much everyone for your warm wishes & for making time to drop by my blog!! 🙂