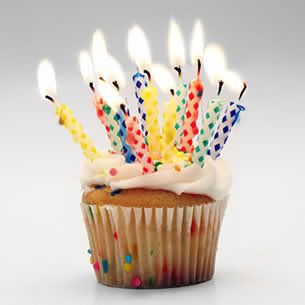 TO MEEEEEEEEEE!!! :d
I can't believe that I'm 35!!
But believe me, I don't feel like one! That's because I'm feeling HAPPY! So, when you're feeling happy, you feel younger! LOL! Yeah, yeah, yeah, I'm trying to 'console' myself for growing a year older.
Oohh……… you know what? Rainer has been really wonderful! He picked me up from work yesterday after work, and we went to this great Japanese restaurant, called 'Waraku' and mind you, the food were really GREAT! Both of us LOVE Japanese food especially 'Sashimi' (raw fish)!
Can you see I'm a HAPPY girl? LOL! This was taken before I ravished the food. You wouldn't want to see what I loked like after the dinner. LOL!
We really enjoyed ourselves tremendously because throughout the dinner, we talked about the days when we were working with SIA, we were always jetting around the world and we get to taste all kinds of food and we both LOVE to go to Japan because of the food. And we talked about the best Japanese food you can find in Tokyo, Osaka, Nagoya, Hiroshima and Fukuoka, those were the places in Japan we've travelled to. Those were the wonderful memories that both of us will always treasure throughout our lives.
And of course my dear hubby got me a nice watch, which he said "Hey, I can wear this too. Let's share!". I was like "No way!". LOL! LOL! Of course we were just kidding with each other.
You know what? The dinner and gift aren't what I would say the best gift I've received on this special day. It doesn't matter to me how much they cost, whether it's $10 or $100 or $1000, it's the thoughts that count. Anyway, I wouldn't allow him to get me anything expensive in the first place!
You know what's the best gift that I've ever received in my entire life?
This is my BEST gift ever!
I've never felt more complete when Rainer came into my life and gave me another life, he gave me Ethan.
I wish that they're always happy and healthy and I wish for them to be always by my side.
That's my Birthday wish………
Have a great day!