It's 3am, listening to "She Works Hard For The Money" by Donna Summer and I'm still up! I must have eaten something that's keeping me so awake now. LOL!
One day, 2 layouts and now a card! I've never really tried doing this before and I'm pretty surprised that I actually did it! 🙂 I think I'm warming up to prepare myself for the upcoming Label Tulip kit which is already on their way to me. The dateline for all the projects will be really tight so I guess this has been keeping me on the roll! 😀
Here's my little "Love" card using my all time favourite supplies from Making Memories and KI lace cardstock. Ooohh…… I love the colors on this one! 😀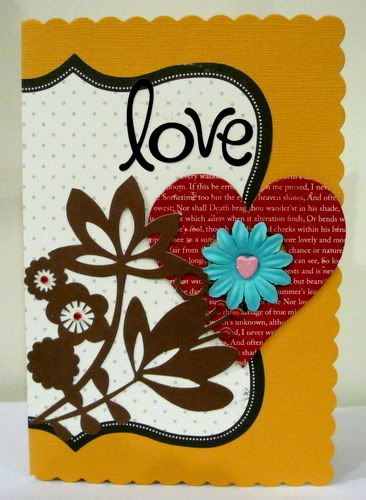 Before I forget, Happy Birthday Sis! Hope you'll have a wonderful time celebrating your birthday. I owe you a treat and hope we'll be able to meet up soon! I really miss you and I love you Sis! (eerr……. she doesn't know I have a blog so she won't be reading this) 🙂
Have a great weekend!