that went really wrong!! Hahahahahaha!!
Well, I've always been the photographer for my family and friends and I longed to have someone to photograph me for a change. But no one could really take a good shot of me. It definitely can't be my camera that is not doing a good job, and I definitely look good enough for the camera!! LOL!! So, it must be the person that's behind the camera right? Just kidding! ;p
Well, some people have an eye for photography, some don't. So, I can't expect too much from everyone to be good in taking pictures and I can't tell my family and friends "Hey, go brush up your skill!!".
So, out of desperation, I tried taking shots of myself in front of the mirror in my bathroom!! LOL!! I'm serious!!
And my mum was wondering what the heck I was doing in the bathroom, standing right in front of the mirror snapping away tons of pictures of myself!! And I have to explain to her and she just shook her head and walked away looking in disbelief that her daughter is actually 'crazy'!! LOL!!
So, here I am scrapping that very picture, which I quite like it despite only half of my face is visible!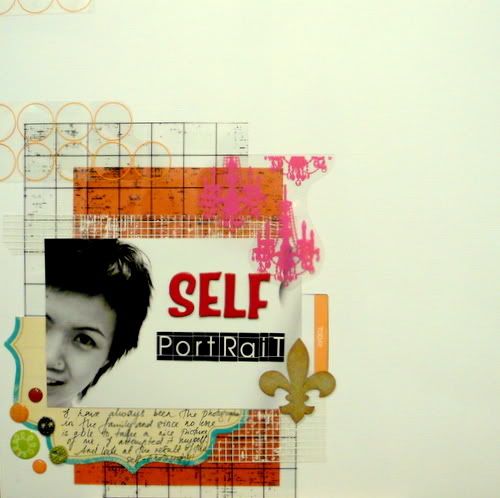 For this simple layout, I used Magistical Memories Fleur de lis chipboard and distress it with Tim Holtz Distress Ink. I layered my layout with my favourite line, Hamblys overlay and paper with other mix of products from Making Memories Journal Book paper, epoxy from SEI and Love Elsie, AC Thickers alpha chipboards and other letter stickers.
I think I seriously need someone to volunteer to take really nice full-faced photos of me!! If you're free, please let me know so we could have some photo-taking outing alright? Yes, I'm that DESPERATE!! LOL!!
Thank you again for taking time to drop by my blog and leaving me wonderful comments!!
Have fun!!