It's a holiday today and I'm staying home in this wet rainy day, reading my Bible and saying my prayers. Today's the day we celebrate the anniversary of Jesus' death on the cross.
Anyway, I've been wanting to scrap so much for the past week but I was caught up with my sewing. Yes, sewing for my pouch for my newly set-up Etsy shop. 😀
It's been a most productive week for me, at work and at home. I hope you're not puking already seeing my pouches, day after day. LOL! I promise I will keep it short and simple so that you don't have to cringe in pain looking at my stuff.
Here's another 2 pouches I made last night and they have been listed on my Etsy just an hour ago. I can't help but to tell you this………… I really love all those wonderful colored felt with the yummy cotton fabric from Amy Butler and Sandi Henderson. Every time I touch them, I sigh in contentment.
You know what? Since I just started my new Etsy shop, to celebration this, I decided to make and GIVE AWAY one pouch to ONE of my lucky blog readers!!  Yup, you heard me right! This is to thank you for all your support and for following my blog for the longest time. I know some of you way back since I first started blogging exactly 2 years ago.
Speaking of blogging, April is the month I started blogging 2 years ago!! Happy Anniversary to my BLOG!!!! 😀 It's a double celebration!! Yay!!
Eeerrrhhmmm………… So, come right in and say hi and I'll draw a name on Sunday, 12 Apr and you'll be receiving my felt pouch, compliments from me!! 🙂
Oh, when you come in to say hello, please tell me which one of these colors that you would love for the pouch, just in case you happened to be the lucky girl!! 😀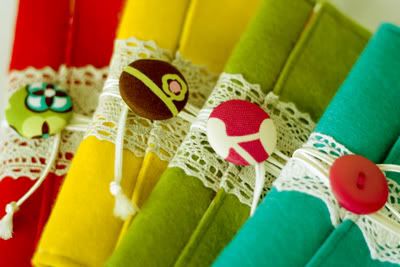 ** Please take note that the inner fabric may differ from the ones that I listed in my Etsy. I may use other fabric design but be assured that it'll be from either Amy Butler or Sandi Henderson. I'm making a new piece, not taken from my shop ok? 🙂 I hope you'll trust my taste and my choice of color. 😉
Have a wonderful Easter Holiday with your family!!!!