You know what? After 11 years of friendship, courtship and eventually marriage, I've never actually hand-make anything for Rainer before. Well, I did many other things for him, I cook for him, clean the house, do the laundry, took care of him when he's sick, listen to him when he needs someone to talk to, I care for him and I love him!
Every of his Birthday, Valentine's Day, Father's Day and Christmas Day, I always buy gifts for him or cards that has many words in them so that I just need to write out "I Love You" in the cards! LOL! That's really sweet of me isn't it?
Let's just say that I prefer to tell him I love him in person rather than writing it in a card or note. I can express myself better when I talk to him. And he knows that I'm just hopeless in writing lovey dovey letters to him! LOL!
So, I did a little something for him this coming Valentine's Day, after 11 years since we met!! I think he might probably teared if he sees this!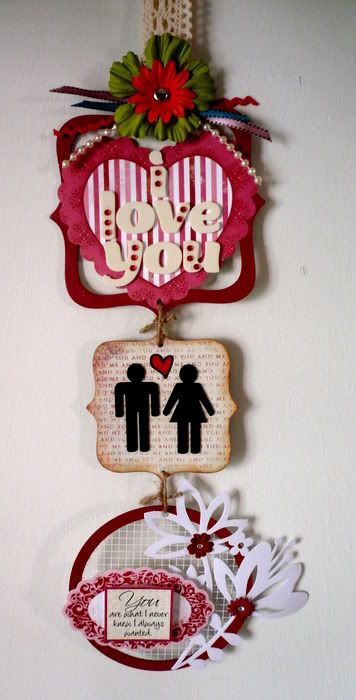 I used Magistical Memories chipboards range of Fancy Frame, Nesting Circle and Potty People which you can find them in their store here.  You can also check this hanging tags I posted at their blog and where there are other creations shared by all the DTs.
And I'm going to hang this right in the closet where he can see them everyday and knowing that I always LOVE him and how much he means to me!
I Love You Darling! I know you always lurk my blog! LOL!
So, are you making anything special for you loved ones on Valentine? ;)