Here's a caption of myself, standing right in front of the mirror, shooting myself (because no one could do it for me! LOL!). I always wanted this shot & I desperately used my big mirror in my dining room, looking like a nut (my DS & helper were staring at me in disbelief!) snapping at myself again & again until I'm happy with all the shots! Hahahahahahaha!!
So, I took the opportunity to use this picture to create this layout for my DT assignment for Made With Love. Thank you for letting me play with these lovely stuff!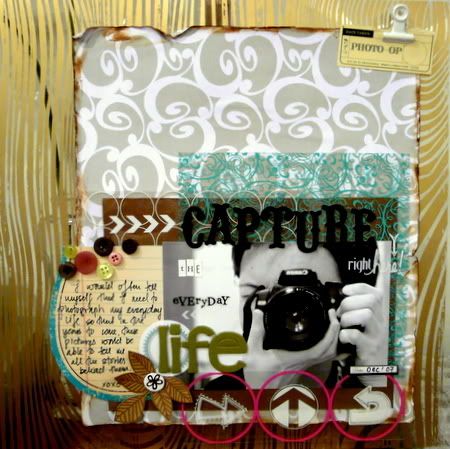 Products used here are:
Patterned Paper – Fifth Avenue from Autumn Leaves, Making Memories and Scenic Route
Overlay – Hambly Screen Prints
Rub-on – Luxe Design
Chipboard Letters – Scenic Route and AC Thickers
Letter Stickers – Making Memories
Buttons – Autumn Leaves
Tag – 7Gypsies
Clip – Making Memories
Chipboard Shape – Love Elsie 
They are available at their store!
Thanks for looking and have a great evening!